Carved rubber block of a springtime lady with flowery hair do
Hello my dear friends! I am thrilled to be back to the blog and provide you with some great news. I would like to share a bit about my journey over the past 2+ years, since I have not posted here at all. Well, first of all I moved from the Pacific North West coast to Spain.
Just before moving to Spain, I had been working on creating my first Skillshare class. I have to say it was an amazing process, guided by a coach...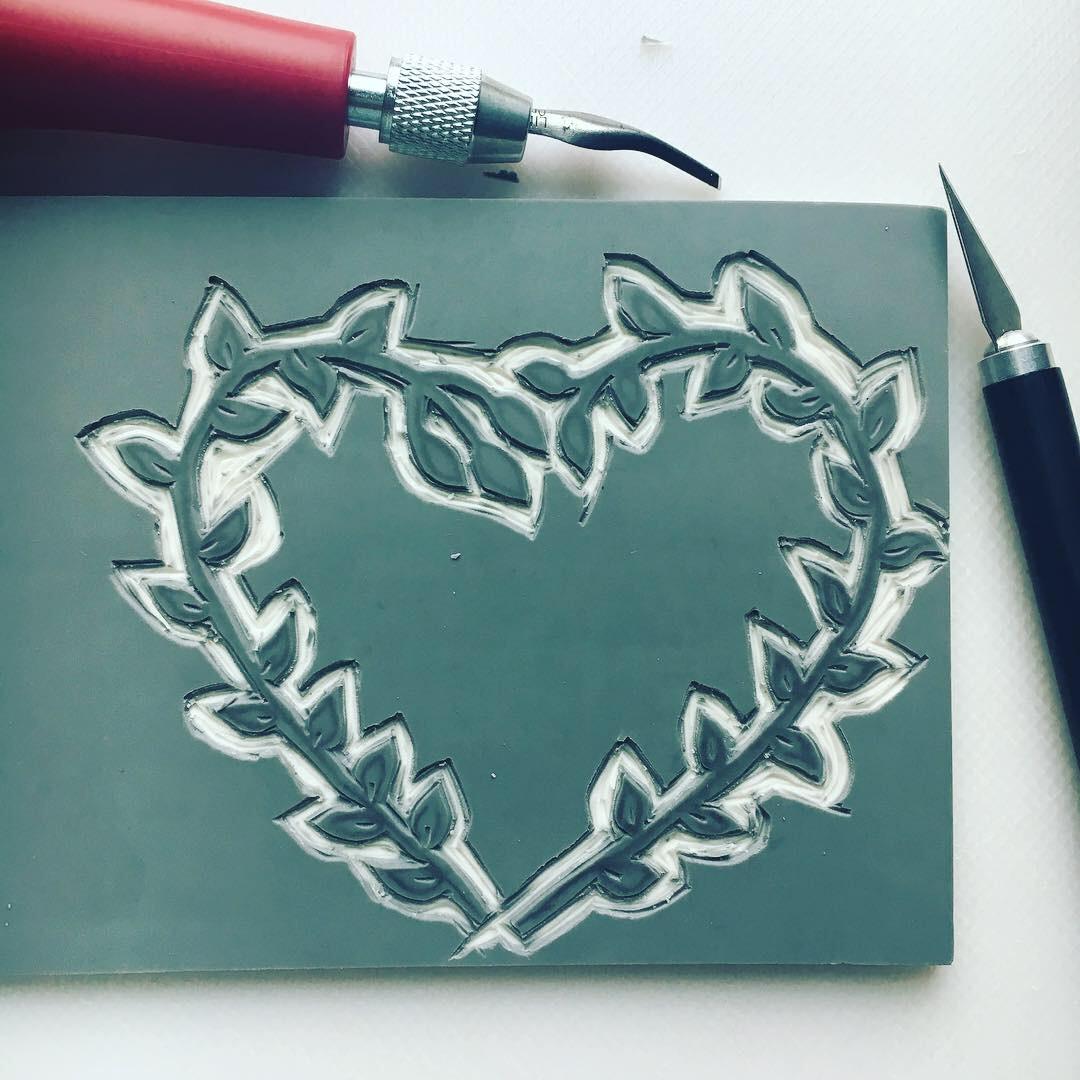 Hello friends! Welcome back to my world of inspiration, my stamped world.
Why stamped? Because I find great joy in making hand printed art as my way of expression. It happens that those prints are made with hand carved stamps!
Not long ago, I found myself trying out a new technique that was...
Hand printed tote bag ready for the beach! I made it with my butterfly stamp
Hello there!
Thought about you all summer, but honestly my sunny days have been too crazy to sit down and write. Luckily, the reasons for my crazy busy summer were all good news! I had family visiting us from Argentina, friends...
Believe in miracles – Passover greeting card
Hey there!
I hope you had a meaningful Passover holiday! And, even if you don't celebrate Passover, you can get inspired by this design to make your own greeting card or table tags.
To spark my own inspiration process, I looked up at the main Passover symbols, which are freedom, peace,...
Botanical wreath Love designed by My Stamped WorldBotanical print in the making – Create – designed, hand carved and hand printed by My Stamped WorldBotanical inspiration – CreateBotanical print in the making – Love – designed, hand carved Botanical inspiration – EnjoyBotanical print in the making – Love, Create, Enjoy – designed, hand carved
Hello...
Botanical heart doodleFinal draft for the stamp designTime to start carving!Carving is a very relaxing activityAlmost ready! Keep carvingHeart shaped wreath is almost done!First test print and … satisfaction!
Hello there!
There's always a good reason to talk about love, to be inspired by love and to carve heart shaped stamps 😉 ! Today I want...
Assymetric hand printed design by My Stamped World. Inspired in the Danish winterAssymetric hand printed design by My Stamped World. Inspired in the Danish winterNordic inspiration in this winter print designed and handprinted by My Stamped WorldAssymetric hand printed design by My Stamped World. Inspired in the Danish winter
Hi there!
So happy to have the opportunity...
Hello dear friends!
It's nice to have rituals in our life. A way to anticipate what will happen, yet also a way to leave our expectations aside and let the mind relax and flow. But how do those rituals start? Definitely, when we choose to create them!
It turns out that a new year is here, and...
Hello hello!
Happy New Year Year, everyone!
So excited to start off a new year, full of ideas and dreams, but most importantly full of action! I hear a lot from my friends, that they'd like to get crafty and explore making art, but they lack the time to do it. Well, first of all, I hear...
Happy New Year 2019!
As I run out of time to show you a review of My Stamped World's highlights from the old year 2018, here I start off the new one remembering a little bit. It's always a good habit to acknowledge our efforts and meditate about our achievements. Big and small.
In my personal view,...