Blue daisies bouquet
This summer has been super intense. I have started working after a period of being a stay-at-home mom since we moved to Seattle. That is one of the reasons my routine was quickly set upside down: I did not have so much time, or better, "me time" to develop my art and my products and designs.
I had to arrange activities for my daughters and every summer day was different from one another. You may think this was stressful, and, from time to time, it was.
But the summer of 2019 has also been...
Hello friends! Welcome back to my world of inspiration, my stamped world.
Why stamped? Because I find great joy in making hand printed art as my way of expression. It happens that those prints are made with hand carved stamps!
Not long ago, I found myself trying out a new technique that was...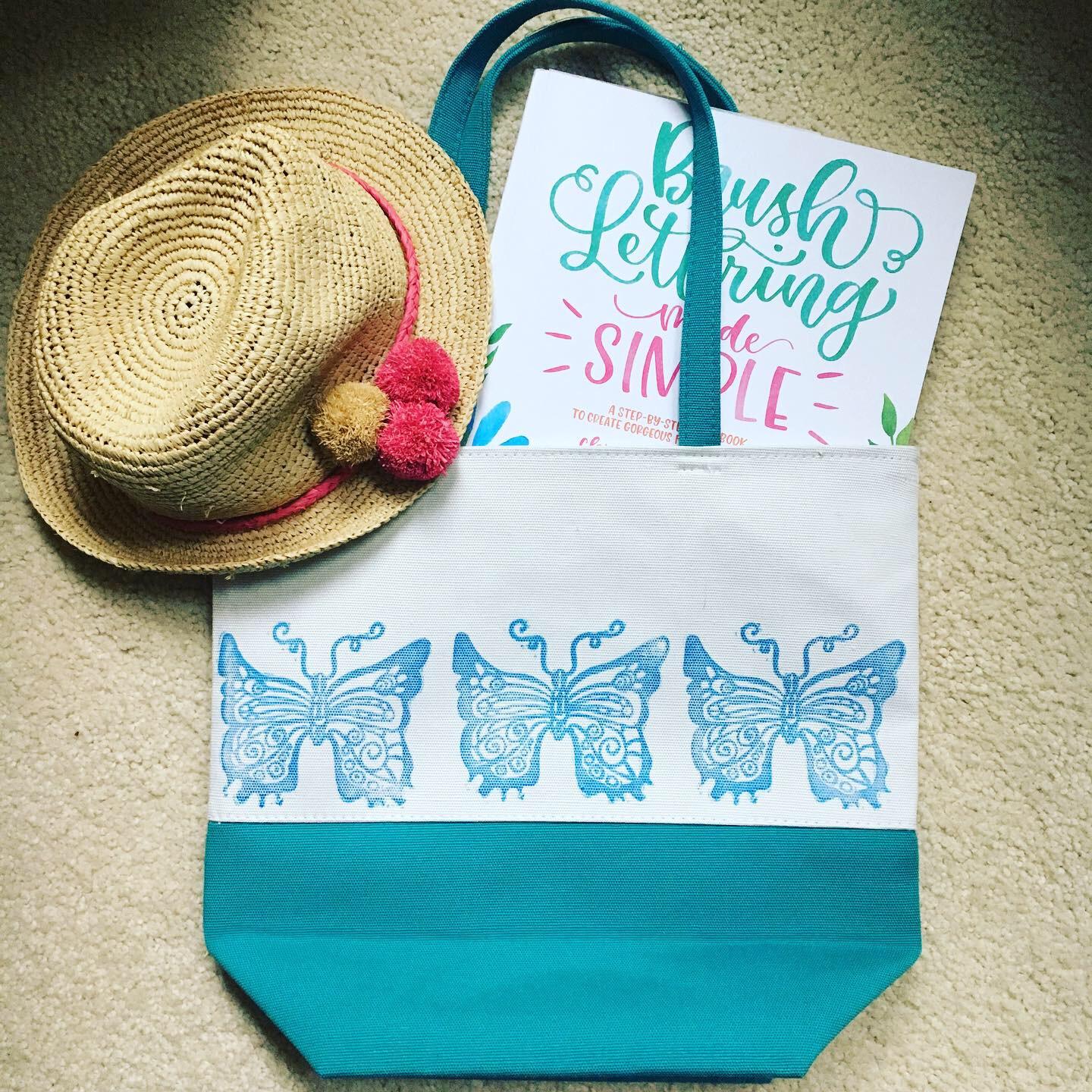 Hand printed tote bag ready for the beach! I made it with my butterfly stamp
Hello there!
Thought about you all summer, but honestly my sunny days have been too crazy to sit down and write. Luckily, the reasons for my crazy busy summer were all good news! I had family visiting us from Argentina, friends...
Hello friends!
Hope you are enjoying this beautiful season, Spring. I find very fascinating the fact that nature turns from white to multi-color in such a short period of time, in these latitudes. As an expat, coming from South America from a place where seasons were not so neat and different, this comes as a...
Botanical wreath Love designed by My Stamped WorldBotanical print in the making – Create – designed, hand carved and hand printed by My Stamped WorldBotanical inspiration – CreateBotanical print in the making – Love – designed, hand carved Botanical inspiration – EnjoyBotanical print in the making – Love, Create, Enjoy – designed, hand carved
Hello...
Assymetric hand printed design by My Stamped World. Inspired in the Danish winterAssymetric hand printed design by My Stamped World. Inspired in the Danish winterNordic inspiration in this winter print designed and handprinted by My Stamped WorldAssymetric hand printed design by My Stamped World. Inspired in the Danish winter
Hi there!
So happy to have the opportunity...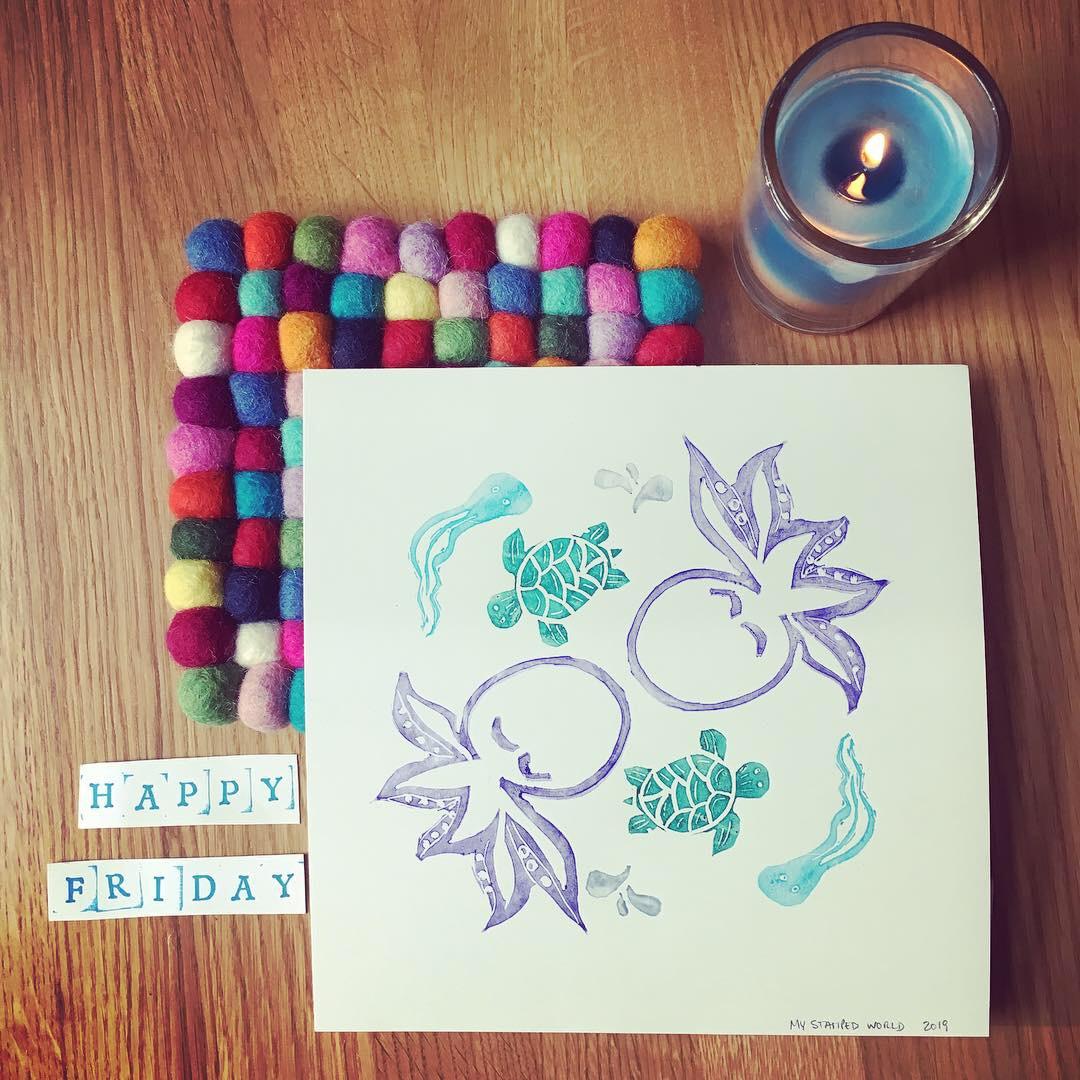 Hello hello!
So excited to be here, and to know that the weekend has started. Today I wanted to show you how cute this new dreamy octopus is, and how lovely this mandala turns out, matching with a few of my previous "under the sea" stamps.
I'm sure there'll be more and new combinations to come. This...
Hello hello!
Happy New Year Year, everyone!
So excited to start off a new year, full of ideas and dreams, but most importantly full of action! I hear a lot from my friends, that they'd like to get crafty and explore making art, but they lack the time to do it. Well, first of all, I hear...
Happy New Year 2019!
As I run out of time to show you a review of My Stamped World's highlights from the old year 2018, here I start off the new one remembering a little bit. It's always a good habit to acknowledge our efforts and meditate about our achievements. Big and small.
In my personal view,...
Hello there!
Ready to start off a brand new year? Of course we are! Sometimes good ideas come from the ones around you. The ones who see you grow and enjoy what you're doing. My friend Fernanda is a busy home-based program coordinator and mom. She needed a handy way to figure out monthly family activities,...